"
Morlock the Unstoppable. A haunted suit of indestructible armor, controlled by its remote host.
"
The Morlock the Unstoppable armor was an artifact Skullivar took control of and used in "Morlock the Unstoppable".
Appearance
TBA
History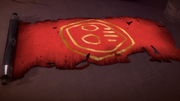 According to Calabrass, the armor pieces have scattered all over the Bermuda Triangle many centuries ago, and ever since then Skullivar seeks to find all the missing pieces to put them back together. In "Morlock the Unstoppable", Golden Bones have manage to found the last piece and gave it to Skullivar. He then started to took control of the assembled armor and had successfully defeated Zak Storm and his crew at Marituga. But Zak and his crew have manage to outsmart him and defeated the armor on the Demoniac by using the Eye of Blazz to entrap the separated body parts in magma before throwing all of them into the sea. And as mentioned by Caramba, the water have cooled them into solid masses of rocks as the armor sinks all the way down in the sea.
Abilities
True to its name, the armor is really indestructible that none of the powers from the Eyes of the Seven Sea (with the exception of the Eye of the Blazz) could defeat it. And as mentioned by Sassafras, a remote host can command and take control of the armor once it found, in this case Skullivar. While being controlled and having an ability to fly, the armor can also separated its own body parts from the torso and control themselves as well. The armor is also shown to have an enormous strength that can cause destruction everywhere it goes such as destroying one building by just one punch.
Sightings
Episodes
Gallery
| | |
| --- | --- |
| Click here to view the gallery. | |